Egualizzatrice o Alzatrice con controllo
"Minerva"
Equalizing machine with inspection table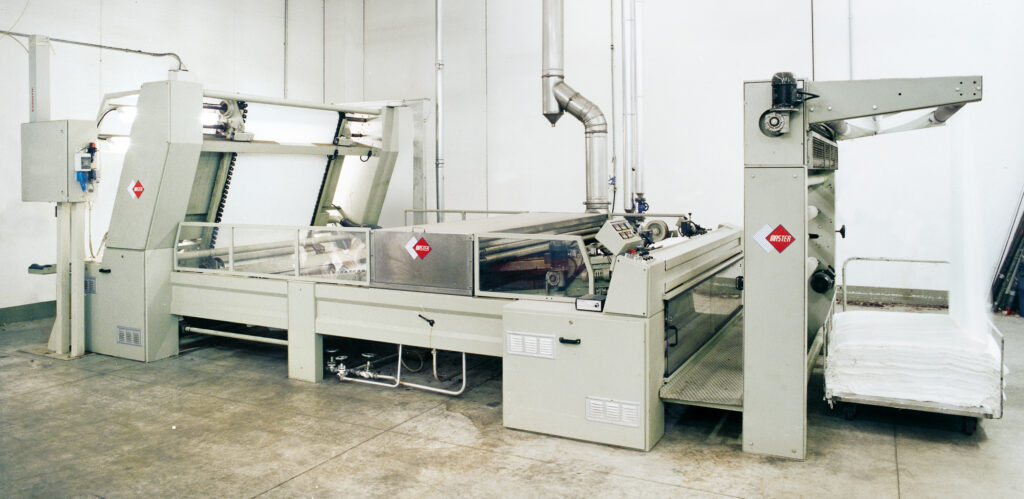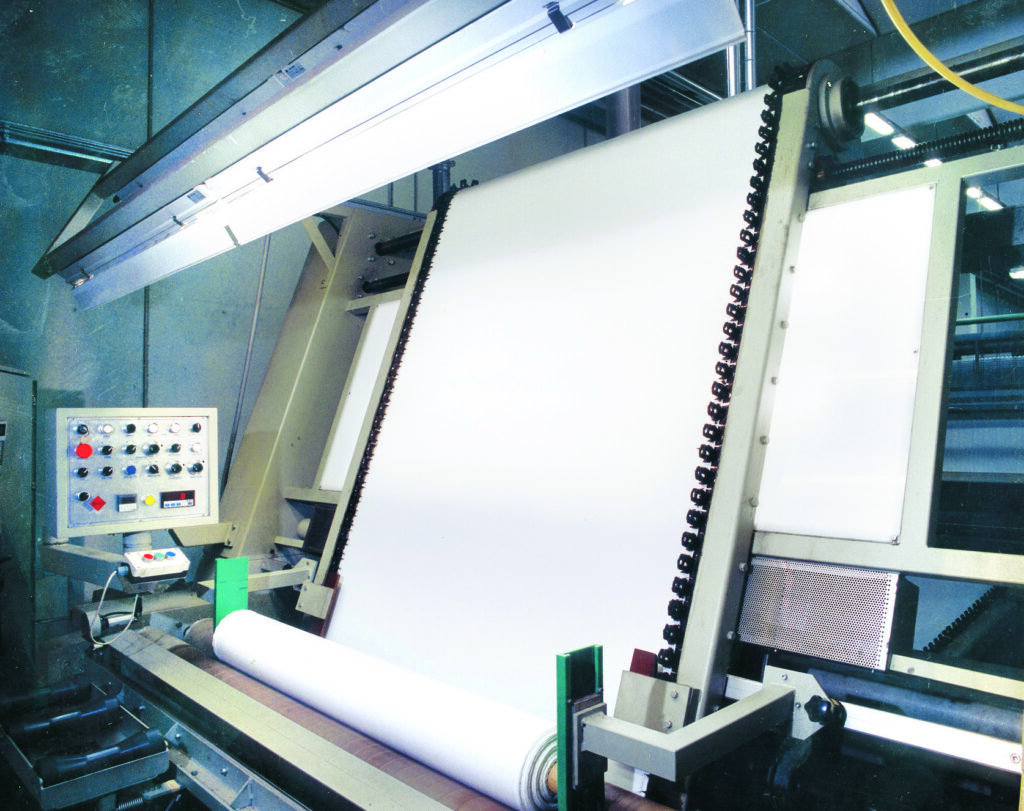 Questa macchina innovativa e brevettata, ha la caratteristica di unire in un solo passaggio due importanti fasi di lavorazione:
1. Trattamento di egualizzatura
2. Verifica del tessuto prima dell'arrotolatura, con tessuto sempre su catena
La caratteristica principale di questa macchina rispetto ad un egualizzo che ha le stesse dimensioni in lunghezza, è quella di avere un percorso catena di 3 metri più lungo che conferisce una maggiore stabilità dimensionale al tessuto. È inoltre corredata di una tavola di controllo con piano luminoso. La macchina è perfetta per lavorare vari tipi di tessuto, compresi maglieria ed elasticizzati.
Le principali caratteristiche della macchina sono:
– Sovralimentazione generale con N.2 cilindri motorizzati
– Sovralimentazione laterale ingresso catena, con motorizzazione della cinghia di trasporto in gomma posta sotto il tessuto e cilindro gommato folle di contrasto, per evitare ammaccamenti del tessuto
– Vaschette di vaporizzazione a risparmio energetico con sistema anti-condensa
– Cappa con esaustore con sistema anti-gocciolamento
– Gruppo di asciugatura con elettroventilatori a velocità variabile e regolabile con inversione di rotazione a macchina ferma, per impedire il surriscaldamento e ingiallimento del tessuto
– Tavola d'ispezione luminosa
– Arrotolatura su due cilindri motorizzati singolarmente a velocità variabile, per consentire di regolare la compattezza del rotolo in formazione
Su richiesta, è possibile corredare la macchina con:
– Taglierina per il taglio trasversale del tessuto a fine rotolo
– Contametri
– Sistema di pesatura elettronica con stampante etichette
---
This innovative and patented machine combines in just one passage two important processing steps:
1. Equalizing process
2. Fabric inspection prior to the rolling, with fabric always on the chain

The main feature of this machine compared to an equalizing machine with the same length, is that it has a chain path 3mt longer, which gives greater dimensional stability to the fabric. Moreover, it is equipped with an inspection table with backlight. It is perfect to work several kind of fabric including knit and stretch fabric.
The main technical features of the machine are:
– General overfeeding with No.2 motor-driven rollers
– Lateral overfeeding on the chain with motor-driven rubber conveyor belts placed under the fabric and rubberized contrast roller without motorization
– Energy-saving steaming bowls with anti-condensation system
– Hood with exhaust fan with anti-dripping system
– Drying unit with electric fans with variable and adjustable speed, reversed rotation with machine stopped to prevent overheating and yellowing of fabric
– Inspection table with lights
– Rolling on two motor-driven rollers with independent motor, with variable and adjustable speed, to set the compactness of the roll in formation
Upon request, the machine can be equipped with:
– Cutting device for the transversal cut at the end of the fabric roll
– Meter-counter
– Electronic weighing system with label printer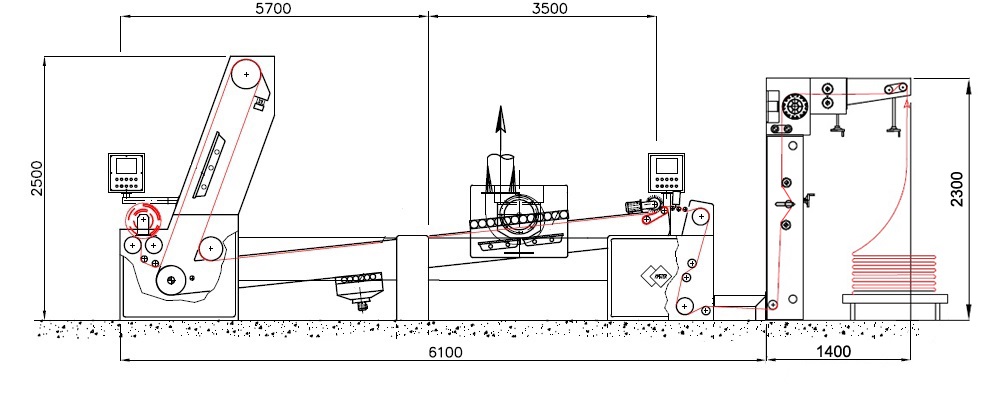 CARATTERISTICHE TECNICHE:
TECHNICAL FEATURES:
Altezza di lavoro
Working width
700-3400 mm
Velocità
Speed
0-60 m/1'
Consumo vapore
Steam consumption
50-300 Kg/h ~
Potenza elettrica installata
Installed electrical power
13 kW ~