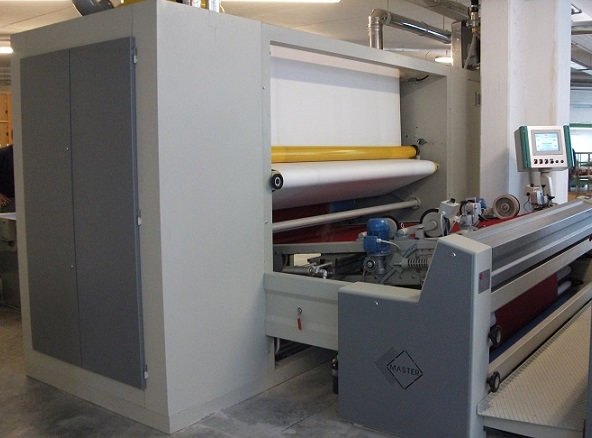 Linea speciale comprensiva di Decatizzo in continuo con Egualizzatrice e Arrotolatore non-stop
Marca Decatizzo: SPEROTTO
Marca Egualizzatrice e Arrotolatore: OFFICINA MASTER
Anno di costruzione Decatizzo: completamente revisionato A NUOVO
Anno di costruzione Egualizzatrice e Arrotolatore: NUOVI
Utile: 2100 mm
Min. larghezza del tessuto: 800 mm
Lunghezza campo conico alzatrice: 1500 mm
Lunghezza campo parallelo alzatrice: 500 mm
Tipo di catena: verticale con spilli, esente da lubrificazione
Velocità tessuto: fino a 40 mt/min.
Sovralimentazione generale egualizzo: da -10% a +40% rispetto alla velocità catena
Sovralimentazione laterale egualizzo: da 0 a +40% rispetto alla velocità della catena
Sistema di riscaldamento: a vapore
Pressione ingresso vapore: 6bar
Potenza elettrica installata: 20 kW ~
Tensione di alimentazione: 400 V / 50 Hz
---
Special production line with continuous Decatizing machine, Equalizing machine and non-stop winding machine
Make: SPEROTTO Decatizer +
OFFICINA MASTER Equalizing and Rolling machine
Possible Materials: Various kind of fabric, included knitted and elasticated fabrics
Year of construction: Decatizer: completely reconditioned as new +
NEW Equalizing and Rolling machine
Working width: 2100 mm
Min. fabric width: 800 mm
Conic field length: 1500 mm
Parallel field length: 500 mm
Chain type: vertical pin chain, lubrication-free
Fabric speed: up to 40 mt/min.
Equalizer general overfeeding: from -10% to +40% than the chain speed
Equalizer lateral overfeeding: from 0 to +40% than the chain speed
Heating system: steam
Steam pressure: 6bar
Power installed: 20 kW ~
Input voltage: 400 V / 50 Hz