Spazzolatrice per la pulizia dei tessuti
Brushing machine for fabric cleaning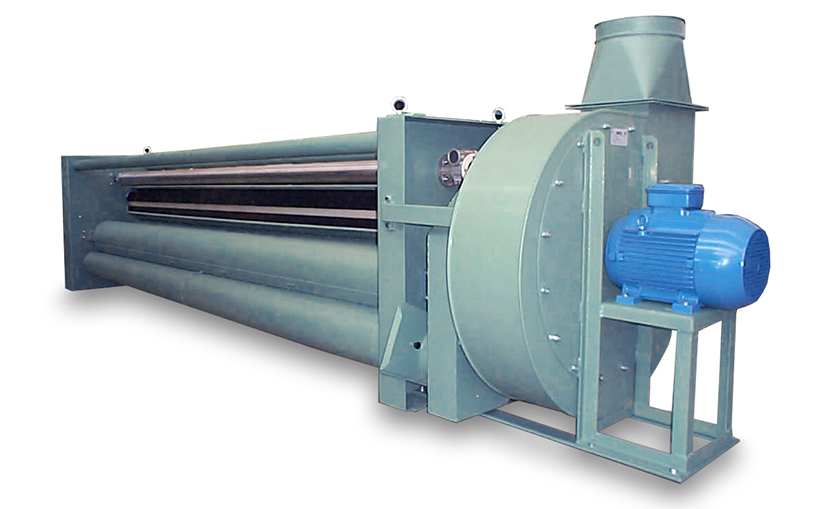 La macchina viene utilizzata per la rimozione di polveri ed impurità da qualsiasi tipo di tessuto.
Il sistema di pulizia viene realizzato tramite cilindri spazzolatori (con spazzole naturali o sintetiche) e/o cilindri battitori (realizzati con profili sagomati in acciaio). Ciascun cilindro è corredato di un cilindro eccentrico, regolabile tramite volantino per la variazione della tangenza con il tessuto, e di una cuffia collegata ad un aspiratore per il recupero delle polveri, per un effetto pulente ottimale. Il percorso del tessuto all'interno della macchina è tale da consentire la spazzolatura di entrambe le superfici (diritto e rovescio).
La macchina può essere a singolo o doppio passaggio.
Su richiesta, la macchina può essere fornita completa di gruppo filtrante per il recupero delle polveri.
---
The machine is used to remove dust and impurities from all fabric type. The cleaning system is composed of brushing rollers (with natural or synthetic brushes) and/or beater rollers (with steel shaped profiles). Each cylinder is equipped with an eccentric cylinder, which can be adjusted by means of a handwheel for the tangency regulation, and with a sleeve connected to a suction fan for the dust collection, for an optimal cleaning effect. The fabric path inside the machine allows the cleaning of both sides (right and reverse side).
The machine can be single or double passage.
Upon request, the machine can be supplied complete with a dust filtering and collection system.