Egualizzatrice o Alzatrice compatta
"Olimpia"
Compact Equalizing machine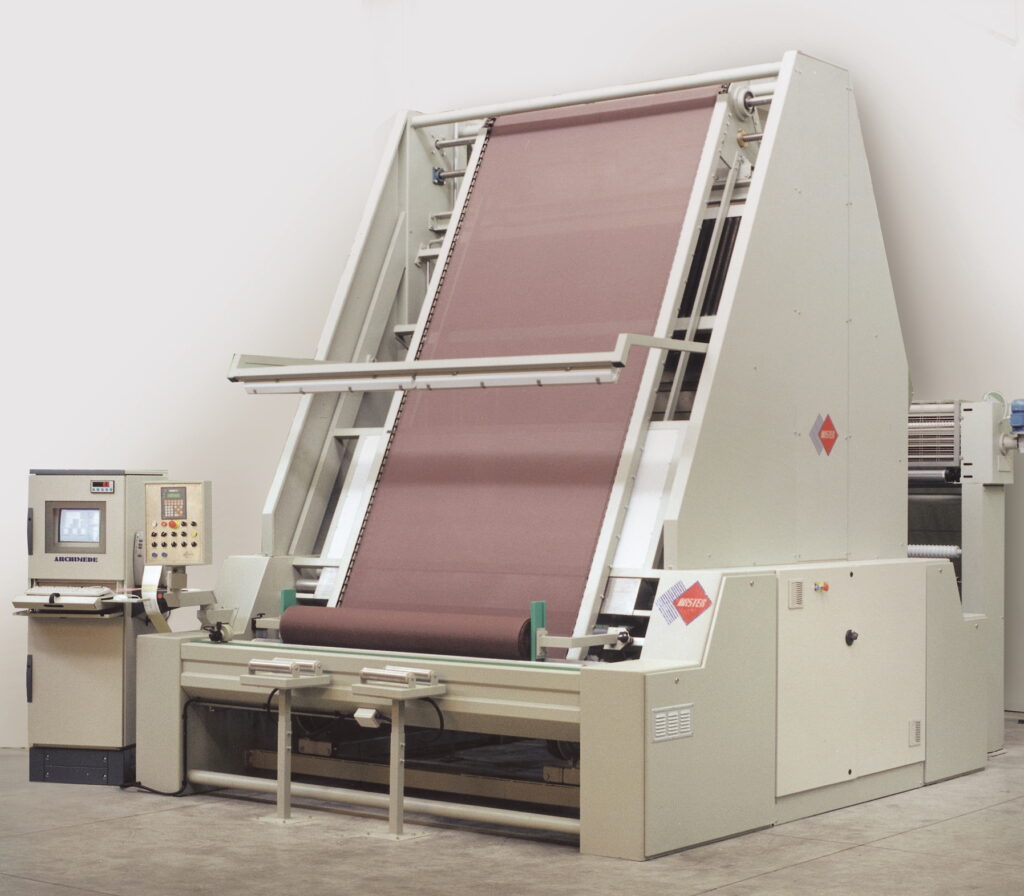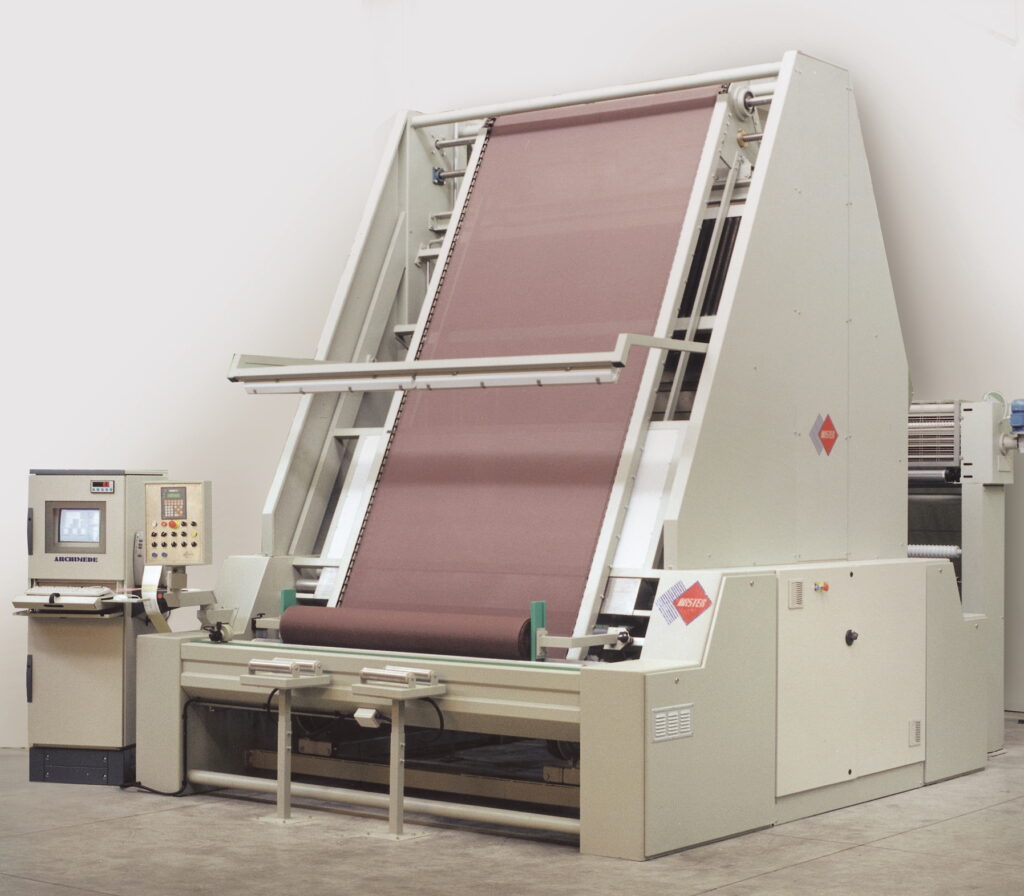 Questa macchina brevettata ha la caratteristica di sviluppare il percorso catena in verticale. Essa permette di ottenere le prestazioni di una Egualizzatrice tradizionale con due vantaggi di fondamentale importanza:
1. Notevole riduzione degli spazi di ingombro
2. Verifica del tessuto su una superficie molto ampia prima dell'arrotolatura
Queste caratteristiche sono di primaria importanza in tempi in cui è essenziale contenere gli spazi occupati dalle macchine, ed il controllo della qualità dei tessuti è una prerogativa indispensabile.
La macchina è perfetta per lavorare qualsiasi tipo di tessuto, maglieria compresa.
Le principali caratteristiche della macchina sono:
– Sovralimentazione generale con N.2 cilindri motorizzati
– Sovralimentazione laterale ingresso catena, con motorizzazione della cinghia di trasporto in gomma posta sotto il tessuto e cilindro gommato folle di contrasto, per evitare ammaccamenti del tessuto
– Vaschette di vaporizzazione a risparmio energetico con sistema anti-condensa
– Cappa con esaustore con sistema anti-gocciolamento
– Gruppo di asciugatura con elettroventilatori a velocità variabile e regolabile con inversione di rotazione a macchina ferma, per impedire il surriscaldamento e ingiallimento del tessuto
– Tavola d'ispezione retroilluminata
– Arrotolatura su due cilindri motorizzati singolarmente a velocità variabile, per consentire di regolare la compattezza del rotolo in formazione
Su richiesta, è possibile corredare la macchina con:
– Taglierina per il taglio trasversale del tessuto a fine rotolo
– Gruppo appretto con asciugatura e rifila cimose
– Contametri
– Sistema di pesatura elettronica con stampante etichette
---
This patented machine has a special characteristic: the chain path develops vertically. It offers the same performance of a traditional Equalizing machine with two important advantages:
1. Remarkable reduction of the overall dimensions
2. Fabric inspection on a large surface before the rolling
These features are extremely important at a time where the space occupied by the machines is so precious and the quality of the fabric control is an essential prerogative.
The machine is perfect to treat several kinds of fabric, including knit.
The main technical features of the machine are:
– General overfeeding with No.2 motor-driven rollers
– Lateral overfeeding on the chain with motor-driven rubber conveyor belts placed under the fabric and rubberized contrast roller without motorization
– Energy-saving steaming bowls with anti-condensation system
– Hood with exhaust fan with anti-dripping system
– Drying unit with electric fans with variable and adjustable speed, reversed rotation with machine stopped to prevent overheating and yellowing of fabric
– Inspection table with lights
– Rolling on two motor-driven rollers with independent motor, with variable and adjustable speed, to set the compactness of the roll in formation
Upon request, the machine can be equipped with:
– Cutting device for the transversal cut at the end of the fabric roll
– Selvedge gumming with drying and cutting system
– Meter-counter
– Electronic weighing system with label printer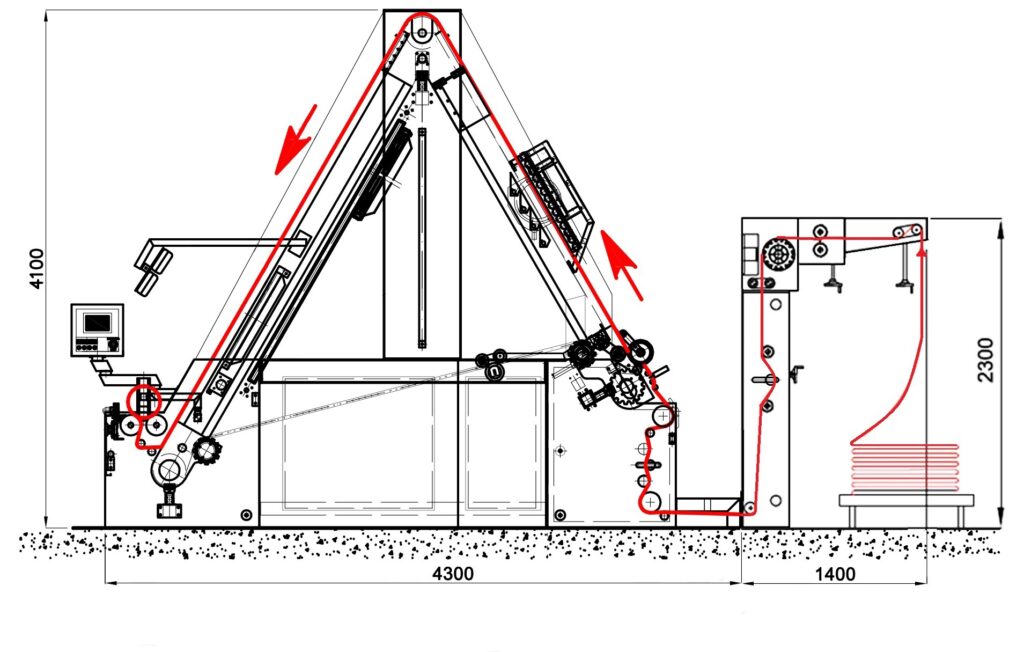 CARATTERISTICHE TECNICHE:
TECHNICAL FEATURES:
Altezza di lavoro
Working width
700-2400 mm
Velocità
Speed
0-60 m/1'
Consumo vapore
Steam consumption
50-300 Kg/h ~
Potenza elettrica installata
Installed electrical power
12 kW ~