Egualizzatrice o Alzatrice tradizionale
"Urano"
Traditional Equalizing machine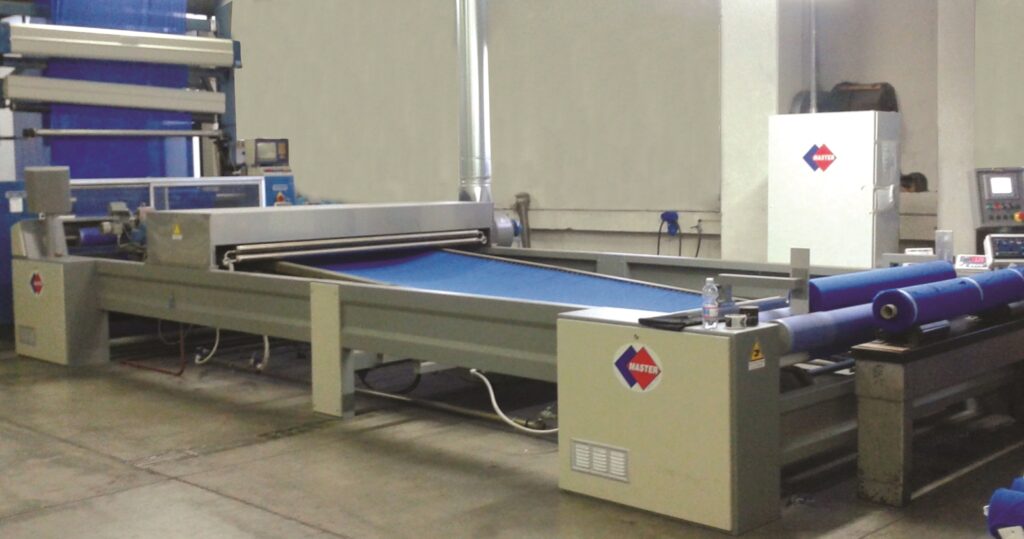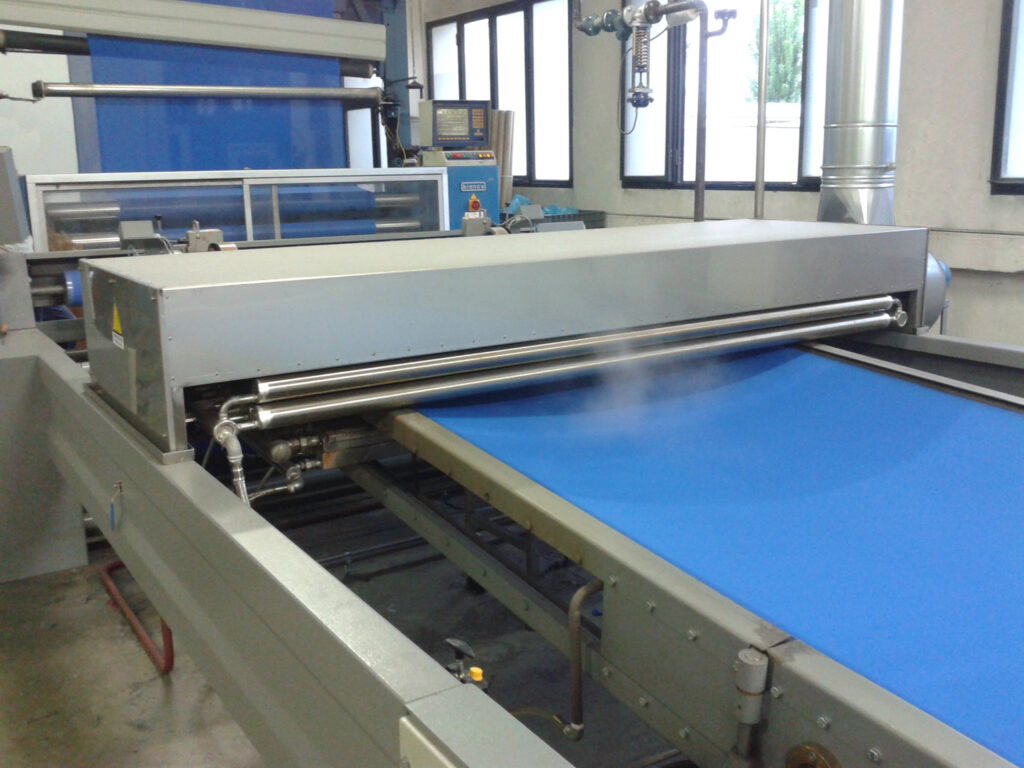 Il macchinario può essere considerato il capostipite della nostra gamma di Egualizzi. Esso presenta tutte le caratteristiche fondamentali per trattare qualsiasi tipo di tessuto, compresi maglieria ed elasticizzati, migliorandone le qualità visive e tattili. La macchina viene utilizzata per portare il tessuto alla dimensione desiderata in modo uniforme e successivamente arrotolarlo, eliminando eventuali pieghe attraverso l'uso di vapore.
Il gruppo di introduzione è quello di una Ramosa (sovralimentazione generale e laterale, cilindri allargatori, ruote impuntitrici, diti allargatori, ecc.). La particolare caratteristica che lo differenzia dalla concorrenza è il percorso inclinato della catena, che permette una buona visibilità di eventuali difetti sul tessuto e inoltre consente il distacco del tessuto dalla catena e la successiva arrotolatura in un tratto molto breve, evitando deformazioni e tensioni del tessuto.
La macchina è di facile conduzione da parte dell'operatore, in quanto azionata da un piccolo computer con comandi interfacciati tramite Touch-screen sia in entrata che in uscita.
Le principali caratteristiche della macchina sono:
– Sovralimentazione generale con N.2 cilindri motorizzati
– Sovralimentazione laterale ingresso catena, con motorizzazione della cinghia di trasporto in gomma posta sotto il tessuto e cilindro gommato folle di contrasto, per evitare ammaccamenti del tessuto
– Vaschette di vaporizzazione a risparmio energetico con sistema anti-condensa
– Cappa con esaustore con sistema anti-gocciolamento
– Gruppo di asciugatura con elettroventilatori a velocità variabile e regolabile con inversione di rotazione a macchina ferma, per impedire il surriscaldamento e ingiallimento del tessuto
– Arrotolatura su due cilindri motorizzati singolarmente a velocità variabile, per consentire di regolare la compattezza del rotolo in formazione
Su richiesta, è possibile corredare la macchina con:
– Taglierina per il taglio trasversale del tessuto a fine rotolo
– Gruppo appretto con asciugatura e rifila cimose
– Contametri
– Sistema di pesatura elettronica con stampante etichette
---
The machine can be considered the founder of our Equalizing range. It has all of the characteristics to process every kind of fabric, including knit and stretch fabric, enhancing its look and touch. It enlarges and equalizes the fabric width, rolls up the fabric and eliminates possible creases by means of steam.
The feeding section is that of a Stenter (general and lateral overfeeding, scroll rolls, stitching wheels, selvedge de-curlers, etc.). The particular feature of this machine from the competitors is the tilted path of the chain that allows a good visibility for the detection of possible flaws and facilitates the fabric detachment from the chain and the following rolling in a very short section, avoiding distortions and stretching. Another feature is the easy use: one operator can control the whole process thanks to a simple computer with Touch-screen panels located both at the entry and at the exit of the machine.
The main technical features of the machine are:
– General overfeeding with No.2 motor-driven rollers
– Lateral overfeeding on the chain with motor-driven rubber conveyor belts placed under the fabric and rubberized contrast roller without motorization
– Energy-saving steaming bowls with anti-condensation system
– Hood with exhaust fan with anti-dripping system
– Drying unit with electric fans with variable and adjustable speed, reversed rotation with machine stopped to prevent overheating and yellowing of fabric
– Rolling on two motor-driven rollers with independent motor, with variable and adjustable speed, to set the compactness of the roll in formation
Upon request, the machine can be equipped with:
– Cutting device for the transversal cut at the end of the fabric roll
– Selvedge gumming with drying and cutting system
– Meter-counter
– Electronic weighing system with label printer

CARATTERISTICHE TECNICHE:
TECHNICAL FEATURES:
Altezza di lavoro
Working width
700-4000 mm
Velocità
Speed
0-60 m/1'
Consumo vapore
Steam consumption
50-300 Kg/h ~
Potenza elettrica installata
Installed electrical power
9 kW ~