Linea di preparazione
"Teseo"
Preparation line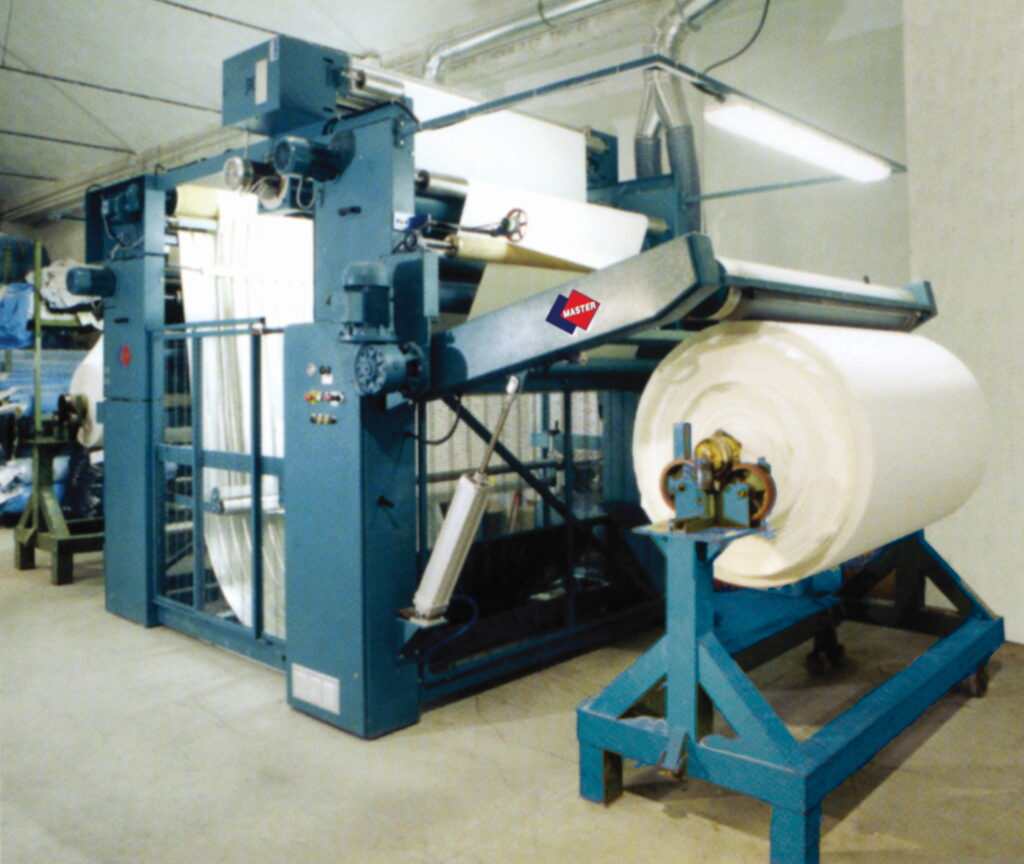 La macchina viene utilizzata per la preparazione dei tessuti alle più svariate fasi di finissaggio, consentendo una continuità di lavoro. Una serie di piccoli rotoli vengono svolti e cuciti in linea per ottenere una notevole quantità di tessuto da arrotolare su grandi carrelli. Una buona preparazione è di fondamentale importanza per il buon proseguimento dei trattamenti: per questo motivo, un gruppo sbattitore toglie le impurità grossolane dai tessuti greggi e un successivo gruppo spazzolatore elimina le impurità residue. Entrambi i gruppi agiscono sul diritto e sul rovescio, con regolazione di incidenza sul tessuto, collegati a delle cappe aspiranti per l'aspirazione delle polveri. Un gruppo di accumulo "J-box" permette la continuità della lavorazione. Successivamente, i cilindri allargatori e il centratore a doghe con lettura del tessuto a tutta altezza garantiscono il perfetto allineamento del tessuto. In uscita, la macchina è provvista di un gruppo Arrotolatore con cilindro motorizzato per la formazione di grandi rotoli su carrelli. Infine, un gruppo zetatore facilita lo spostamento del tessuto di pochi centimetri nella formazione del rotolo, in modo da impedire il sovrapporsi costante delle cimose. I cilindri di traino sono tutti motorizzati e azionati da inverter con regolazioni di velocità e tiraggio.
La macchina è molto compatta ed è di facile conduzione e regolazione.
---
The machine is designed for the fabric preparation for the different finishing processes, allowing a non-stop work. A series of small rolls are unwound and stitched together in order to have a considerable quantity of fabric to be rolled up on big batch trolleys. A good preparation is extremely important for a successful processing: for this reason, a beating device removes the larger impurities from raw fabrics and a brushing device eliminates the residual dusts. Both devices work on both sides of the fabric, with adjustable fabric incidence and are connected to vacuum hoods for the dust suction. A "J-box" accumulator allows the non-stop work. After that, the spreading rolls and the centring device ensure a perfect alignment of the fabric. At the exit, the machine is equipped with a Rolling unit with motorized roller for the formation of big rolls on trolleys. Lastly, an oscillating device moves the fabric by a few centimetres as the roll is forming, so as to prevent the constant overlaying of the selvedges. The towing rollers for the fabric transport are motor-driven and controlled by Inverters with speed and tension adjustment.
The machine has a compact design and it is easy to control and regulate.